urban farms
Posted by:

Anna Wilkinson

on

July 10, 2012 / 11:43 AM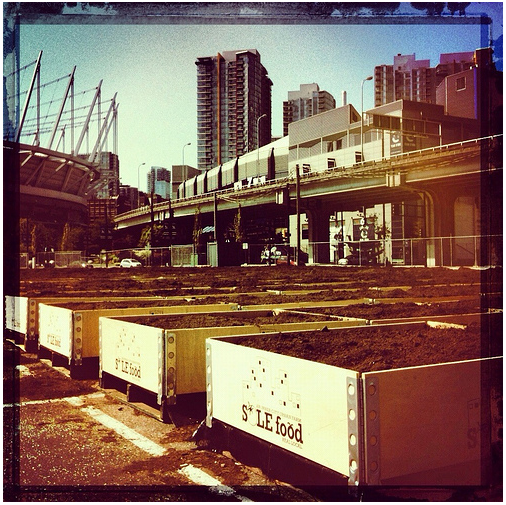 Vancouver is changing and growing so fast that, as Gordon Price reports, its newest neighbourhood doesn't even have a name yet. But if we look closely, we can see that a lot of our old ideas and landscapes are actually being repurposed, redesigned, and redefined. This week's MOVments explores the ways Vancouverites are reusing old spaces, re-imagining affordable housing and urban planning, and putting a new spin on a time-honored tradition: the business lunch.
Redefining Growth. Much to our delight, SOLEfood, Vancouver's largest urban farm, has outgrown its first home in a parking lot on East Hastings. Using a social enterprise model and employing over 20 people from the Downtown Eastside, the urban farm just opened its second location under the Georgia Street viaduct. As The Tyee explains much of SOLEfood's success has come from from garnering community support; the farm has received multiple grants, help from local business owners, and a free three-year lease for its new spot on Pacific Boulevard.
Video Stores Live.  With the demise of big-chain stores like Blockbuster and Rogers, They Live (formerly Cinephile) is one of a handful of independent video rental shops in Vancouver that is still making a go of it in an increasingly Internet-dominated business. Like Black Dog and Limelight Video, They Live is filling a niche, catering to those who are searching for hard to find titles and a little personal interaction. And as with other local businesses and art spaces, diversification is the name of the game; They Live will also be offering live music and film screenings.
Rethinking Homelessness. In the midst of so much change, UN representative Miloon Kothari says one thing has stayed pretty much the same since his last visit to Vancouver in 2007: the city's affordable housing crisis. In his interview with The Tyee, Kothari gave a sobering account of the crisis, which he says is caused in part by too much emphasis on market solutions. He suggests that it's time to completely re-frame the housing issue: "What you see in Canada and what you see in the United States is that housing is seen as a commodity and not as a social good. If it's treated as a social good, then the whole thinking will change."
Shifting Planning Policy. Judging from our situation in Vancouver, it looks like the new generation of Canadian urban planners have quite a task ahead of them. This fascinating Globe and Mail article explores the shifts currently taking place in urban planning policy and power assignment. While cities across the country face diverse challenges, Vancouver's former co-planning director, Larry Beasley, is excited at the prospect of a new generation of Canadian urban planners taking on roles as visionaries and risk takers.
The Evolution of Lunch. And finally, on a lighter note: the Vancouver Public Space Network and Space2Place are co-hosting communal outdoor lunches every Thursday this month. Long cafeteria tables, food specials from local vendors, and musical entertainment are making Abbott Street the place to be for an afternoon meal, whether you work in the area or not.
At the MOVeum:
August 18 - MEMBERS ONLY Art Deco Chic: Talk & Tour with Ivan Sayers
[New SOLEfood location on Pacific Boulevard. Photo by David Niddrie]
Posted by:

Rosemary Poole

on

April 29, 2010 / 12:13 PM
A round up of news stories we followed this week, plus other events and cultural happenings worth a notice.
You see arugula, I see an eyesore? As City Council pushes for a green, sustainable Vancouver (allowing backyard chickens, introducing new bike lanes, building a demonstration garden on City Hall property, etc.), awkward snags in the day-to-day functioning of city emerge. Two neighbours in East Van are going head-to-head over a vegetable garden. Seems the tenants at 470 E. 56th Ave. have turned the front and back yards of the property over to vegetables, growing everything from kale to raspberries to herbs. Every inch is maximized for growing—even the dandelions are used for tea. (An image of the yard from last summer is pictured left.) They write a blog about their "yarden" project, too, and have even offered workshops to would-be farmers. Their neighbour says their efforts are impacting the value of his property and that weeds are travelling into his yard. The City is now involved, expressing their support but also requiring clean up of beds planted on the city land the tenants have taken over between the sidewalk and the street, among other things. Question is: Would the neighbours complain, and thus the city be involved, if the house were located near Commercial Drive where such philosophies are more commonplace? Or are the tenants pushing things too far, too fast, politicizing the issue instead of just trying to get along? Would love feedback on all this. See the article in today'sGlobe and Mail for additional background.
First United embraces a new mission. This week, First United Church launched a campaign to raise $31-million to "redevelop the church into a multi-service facility that will provide everything from health care to housing" for residents of the Downtown Eastside. Though the church has been a beacon for the poor and marginalized since its establishment in 1885 (archival photos from the 1930s show people lined up around the building for food), it has adapted in recent years to meet a growing demand for safe shelter. In 2007, they stopped offering formal Sunday services because of poor attendance; in 2008, they became one of the City's emergency homeless shelters, under the HEAT initiative. Some 250 to 300 people sleep there each night. With this week's announcement, they'll now formally transition from a place of worship to a place of sanctuary, a move a spokesperson for the church says resulted from questioning what it means to be a church in the 21st century. (Globe and Mail)
So long, white dome. On May 3, at 10 a.m., the distinctive air-supported roof at B.C. Place will deflate for good, marking a major change to the city's skyline. The 27-year-old roof is being replaced with a retractable version that's scheduled for completion next year. Click the link for a slideshow of artist renderings. (BC Place)
Art, popular culture, and Kurt Cobain. On May 13, the Seattle Art Museum will open an exhibition devoted to Kurt Cobain. The group show sees different media to interpret the work, life, and continued influence of the city's most famous musician. On till September 6. Click the link for a slideshow of works from the show. Wonder what Kurt would think. (Seattle Art Museum)
And a note on what we're working on. Sorry to be off the blog this week. We're gearing up for the opening of our latest exhibition, Fox, Fluevog & Friends(!), and preparing for the launch of our summer program schedule and related online content. Some of the programs will relate to the Fluevog exhibition, others won't. Lively mix assured.
We've also been busy mining the content from our history galleries for a new interpretive guide/mini-catalogue. It's been written and designed as a visitor's guide to those galleries, and part of an ongoing effort to link the stories from the city's—and the Museum's past—into our new vision. I'll write more about it once it's available at our visitor services desk. Happy weekend.
Image credit: The Farmhouse Blog
Posted by:

Rosemary Poole

on

April 20, 2010 / 10:55 AM
As our Twitter followers will have noticed, we've started flagging stories from here and elsewhere about the surging popularity of eating food grown locally. Credit Vancouver writers Alisa Smith and James MacKinnon for giving the local movement traction with their popular 100-Mile Diet blog, book, and television series, and the many Vancouver restaurants who champion regional suppliers (far too many places to list but Raincity Grill and C restaurant come to mind).
In August, we open a feature exhibition that will explore the homegrown scene through a collection of new photographic works. We'll supplement the show with a series of public programs designed to educate and inspire. Stay tuned. In the meantime, we'll continue to post about news and ideas relating to all this—there's certainly no shortage of them.
First published in 2008, Edible Estates spotlighted the return of the kitchen garden. The just-published—and expanded—second edition looks at eight "regional prototype gardens" planted by author Fritz Haeg around the U.S. There are also essays by leading edible-landscape thinkers such as landscape architect like Rosalind Creasy, and Michael Pollan, the unofficial voice of the sustainable-food movement. The book is beautifully designed, too; lots to inspire.
Last week, I tweeted about a great slideshow on Instructurist that looks at the emergence of urban farms in inner-city neighbourhoods in parts of the U.S. It's worth mentioning again; the range of interpretations is fascinating.
Vancouver's version of an urban farm is taking shape on Hastings Street next to the Astoria Hotel. Called SOLEfood, it's a project from United We Can that employs neighbourhood residents. This spring, they'll harvest their first crop. Visit their blog for more information and ways you can get involved. Right now, they're looking for garden tool donations.
Lots more ahead on this topic. Send us your own ideas and observations, too.
Image credit: Art Book