communities
Posted by:

Anna Wilkinson

on

September 18, 2012 / 3:40 PM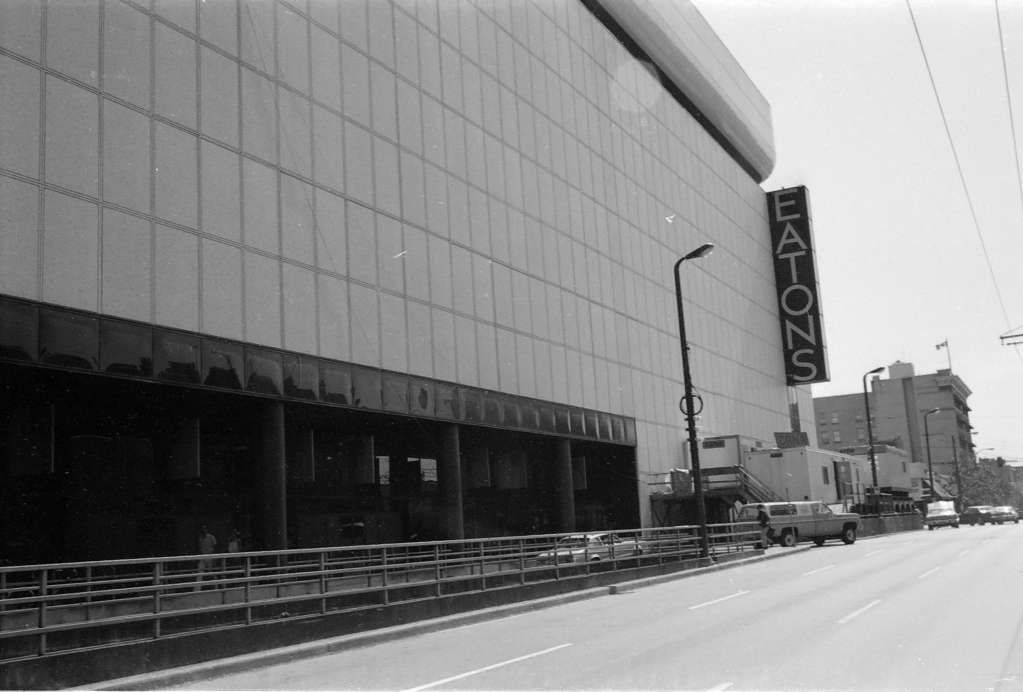 This week we're getting liminal, exploring the edges of what we consider public and private, indoor and outdoor, and social and solitary. From the Great White Urinal, rooftop (and indoor) gardens, and designs for more social living, this instalment of MOVments is playing and engaging with Vancouver's in-between spaces.
Great White Landmark. Since the early 1970s, the corner of Granville and Georgia has been dominated by what some claim to be the "ugliest building" in downtown Vancouver (nicknamed the Great White Urinal for its large, white, windowless exterior). But not any longer. The plans for a new building designed by James Cheng were revealed yesterday. The new development will see Sears leave its long time home and a new Nordstrom's department store open in the heart of the city. Some city planners are hoping that the modern, glass building will help connect the feel and aesthetic of Robson Street, Robson Square, and the Vancouver Art Gallery to the rest of the downtown core. As architect Michael Heeney told the Globe and Mail, "One of the reasons Robson dissipates and loses its energy is because of that block."
Gardens in the Sky. Another new addition to downtown Vancouver? The first "urban vertical urban farm" in North America. Alterrus Systems is building a garden that will run on hydroponic technology and is expected to produce more than 150,000 pounds of leafy green vegetables and herbs annually. And yet another leafy answer to Vancouver's density dilemmas? Gorgeous rooftop flower gardens like this one featured in Forbes magazine. The owner of the house, Nick Kerchum seems like he has the right idea when it comes to gardening: his flowers are completely self-sufficient, and don't need to be watered or pruned.
Growing Up, Growing Together. In response to a recent Vancouver Foundation survey that looked at the increasing loneliness and isolation felt by many Vancouverites, architects Bing Thom, Michael Heeney, and Andy Yan, have written a manifesto that calls for more community-oriented urban planning in our city. Their piece is chalk full of quotable quotes around the need for creative responses to our evolving skyline: "Higher density residential living is ultimately unsustainable if the end result is simply the construction of gated vertical suburban communities in the sky." And the shortage of public spaces that encourage dialogue and promote comfortable interactions between strangers is an undercurrent throughout. Drawing an intriguing parallel, Thom, Heeney, and Yan bring attention to the in-between spaces that may need some tweaking, "Before (and probably long after) Facebook and Twitter, public spaces and streets were the original social network and, once in a while, this network could use some upgrading." On the other hand, sharing space on the streets may take some getting used to, as illustrated by this little story about recent food cart feuding.
Business Time. And lastly, Toby Barazzuol, chair of the Strathcona Business Improvement Association and upcoming Interesting Vancouver speaker, explores the intersections between business and community development in this fantastic opinion piece from the Vancouver Sun.
At the MOVeum: 
September 19 - Opening Night - Object(ing): The art/design of Tobias Wong 
September 20 - Built City @MOV: Urban Evolution, Retold 
[Image: 700 Granville Street, west side, 1981. City of Vancouver photo, CVA 779-W02.16]
Posted by:

Hanna Cho

on

March 23, 2011 / 3:04 PM
On a bright and sunny Saturday morning in February, 75 Moving Through participants embarked on one of three architectural walking tours organized by MOV, as part of a multidisciplinary exploration of Vancouver's built environment, called "This is Not an Architectural Speaker's Series". As some of you know, the groups were completely full, so not everyone was able to join. The good news is, we recorded each walk, and the podcasts are now available for listening and download!
Listen: Moving Through Podcasts
Three concurrent walks and groups set out from Stadium/Chinatown Skytrain, Commercial/6th, and King Edward Stations, and joined together for lunch and an all-group Q&A and wrap-up session lead by Gordon Price at SFU Woodwards. Our intrepid guides report:
Mini-Walk A: The Path(s) Not Taken: Viaducts, Expressways, and Almost Vancouvers.
(*Guides: Vancouver Public Space Network, Michael Green, mgb architecture)
Most Vancouverites rarely spend any time in the parking lot across from Rogers Arena, but standing there looking up at the Georgia and Dunsmuir viaducts, it is easy to feel like you've been transported to the overpass wasteland more typical of LA or Detroit.
Demian Rueter and Brandon Yan, transportation coordinators from the Vancouver Public Space Network and Michael Green of mgb architecture have thought a lot about these overpasses and about what could have been if the downtown freeway started in the early 1970s had been completed. Walking through Gastown, it is easy to see what would have been lost. The European style streetscape that was jeered for so long as a tourist trap left behind by Expo 86 has become in recent years a dependably fun spot for a night out and home to some of the city's best restaurants. If the freeway had been built, not only would this be lost, but also large chunks of Strathcona and Chinatown. By passionately opposing this plan, the residents of these neighbourhoods prevented this plan from occurring. A widely forgotten casualty of the project was Hogan's Alley, the neighbourhood Vancouver's Black community called home.
When we start to think about these great neighbourhoods surrounding the viaducts, it's easy to imagine that parking lot becoming something really exciting if the viaducts were to come down.
Mini-Walk B: Speed and the Shape of the City: Vancouver's Evolving Transitscapes
(*Guides: Andrew Curran/Translink & Graham McGarva, VIA Architecture)
Graham McCarva sees transit stations differently than most people. Graham was the lead architect behind Commercial/Broadway station, it is informative to walk with him through the station and surrounding neighbourhood. "A subway station is a place to buy flowers," he told us, a place where everyone should feel comfortable walking past at any hour. This idea informed the of this station, which responded to neighbourhood concerns of unsavoury characters commanding the intersection. Previously the location of the busiest pay phone in the region, it is now home to the busiest Shopper's Drug Mart. The main action on the Drive used to be north of 1st Ave, but since the station was renovated the neighbourhood has grown right down to 12th Ave.
Andrew Curran, senior planner at Translink, introduced the concept of Marchetti's Constant, and helped put the station into historical perspective, explaining that this, the highest traffic station in the system, serves the same function as did the former streetcar station (now a post office) at 6th and Commercial. Like the streetcar station before it, Commercial/Broadway Station connects two suburban lines to lines bound for Downtown (and UBC), moving thousands of people each day.
Andrew and Graham sparked many questions among the group, making the ride to SFU Woodwards a lively one. We were better able to see the role that transit has played in the development of the lower mainland, and puzzle over the role that the Canada Line and other future lines will play in the area's ongoing growth.
Mini-Walk C: Evolution in Station-Area Planning the Cambie Corridor
(*Guides: Jim Bailey, City of Vancouver & Peeroj Thakre, pH5 architecture & Urban Republic Arts Society)
Tucked beneath the streets at King Edward Skytrain station, Jim Bailey, senior planner for the City of Vancouver's Cambie Corridor Station Area Planning project, led us through an engaging discussion about this interesting, and perhaps under-discussed area of Vancouver. Ranging from the Cambie Village to Marine Drive, Bailey divides the area into 5 Precincts, suggesting each has room for development of a unique character and livelihood. However, while single family homes are currently at a market value of $1.5million near King Ed station, it is clear that increased density will be necessary for more affordable living situations. As we walked through the laneways surrounding the station, Peeroj and Jim discussed with the group, how optimizing transit, cycling, and walking opportunities, as well as increasing public amenities, and opportunities for community engagement will be key for the future of the Cambie Corridor.
See the Moving Through photoset here.